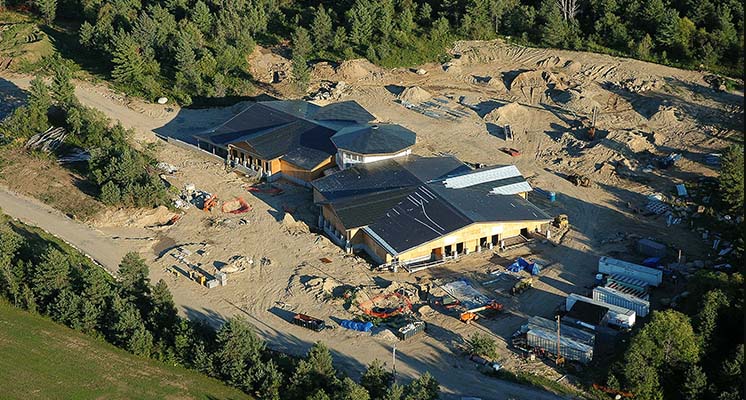 The History of The Wild Center
What began as a discussion amongst friends in Betsy's Lowe's Long Lake cabin over 20 years ago has become a 115-acre home in which people and nature can coexist.
Learn More about our history
Careers at The Wild Center
Do you play well with otters? The Wild Center welcomes members to our team of creative, adventurous people who are dedicated to sharing the stories of the natural world.
Learn More about our OPENINGS
Sustainability at The Wild Center
The Wild Center strives to encourage new and improved building practices to increase efficiency and reduce energy use. Enhancing local food sources is also a key element to achieving regional self-sufficiency and sustainability.
Leadership
Behind the work we do every day is a dedicated staff and knowledgeable and involved boards which add significantly to the knowledge base of the organization, and to its capacity to innovate and grow.
Karen K. Thomas, Chair
Linda Rosenstock, Vice Chair
Jack Ryder, Vice Chair
Joseph G. Beck, Treasurer
Virginia H. Valkenburgh, Secretary
Paul J. Alioto
Michael A. Bettmann
Lee Bailey
Terry Birdsong
George Cigale
Larry Clifford
David Kanietakeron Fadden
Ed Forbes
Charles S. Frenette
Richard F. Godin, Jr.
Robin Gosnell
Sally Hart
Nancy S. Howard
Michael A. Hunsinger
Nicole Hylton-Patterson
Ben Ireland
Elizabeth M. Lowe
Paul A. Maroun
Pamela G. Matt
Brooks H. Reynolds
Juan Rodriguez
Meadow Rutenbar
James Schoff
Charles O. Svenson
Joel H. Treisman
Emeritus Trustees
G. Thomas Aydelotte
Lynn S. Birdsong
Peter A. Kindler
Nancy K. Simpkins
Martha F. Bullock, Chair
Allison S. Birdsong
Sarah R. Bogdanovitch
Tony Campbell
Emily Forbes
Lynn S. Fox
Robert J. Gillis
David R. Goodman
William O. Grabe
Phuong Ireland
David Jones
David McAlpin
John McHugh
George E. Pataki
Michael R. Phinney
Steven B. Potter
Mary Beth Reiss
Grant Reynolds
Stanley H. Rumbough, III
Carl B.E. Shedd
Anna Sommer
Sandra A. Strader
Peter B. Walker
Ross S. Whaley
George A. Whaling
David J. Youlen